Preview Innovatik – Corporate WordPress Theme (Corporate) Online
Innovatik is a WordPress LayersWp child theme, created for all kind of business, accounting, financial, brokerage, coaching, law office, bussines planning, corporate websites.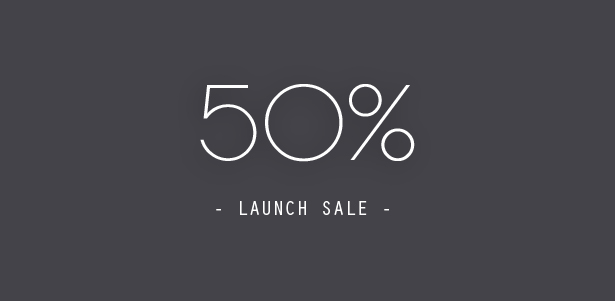 Based on LayersWp framework and Siteorigin builder, Innovatik is by far a multi-purpose and responsive theme allowing you to set up your own web page without painfulness with its outstanding feature such as varied header with 5+ styles, drag & drop Page Builder, speed & SEO optimized, custom css, widgets customised, Woocommerce ready. We also inlcuded in pack Import file, slider for import, SiteOrigin pages, widgets as text (just copy paste in sidebar).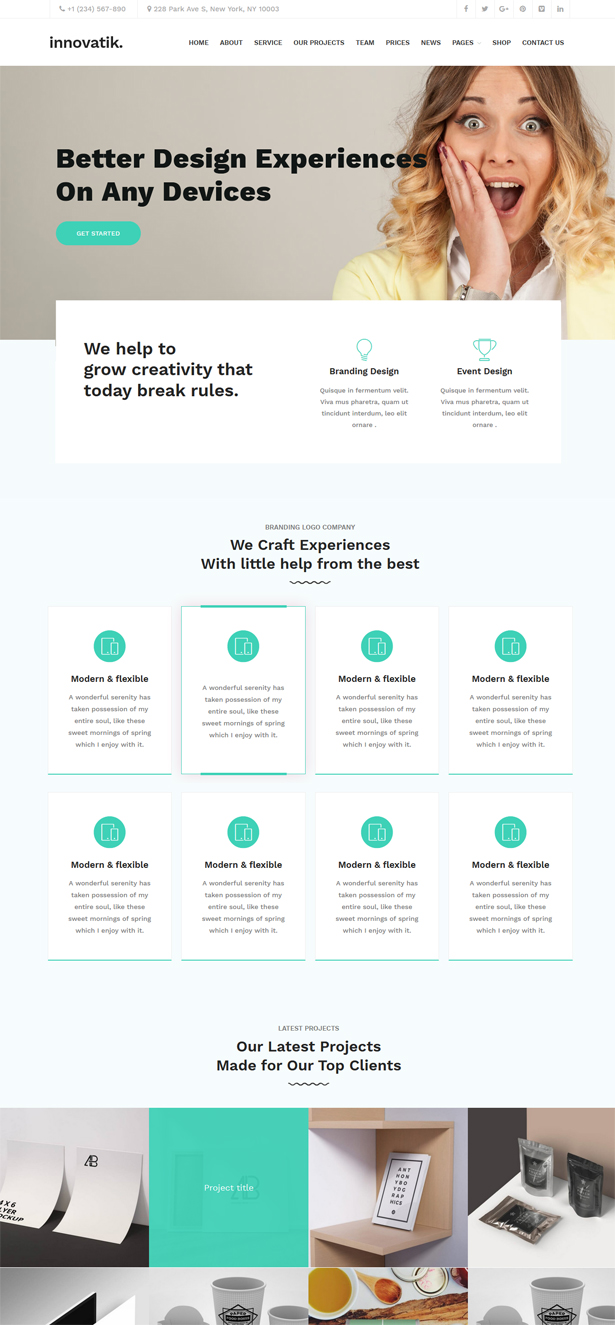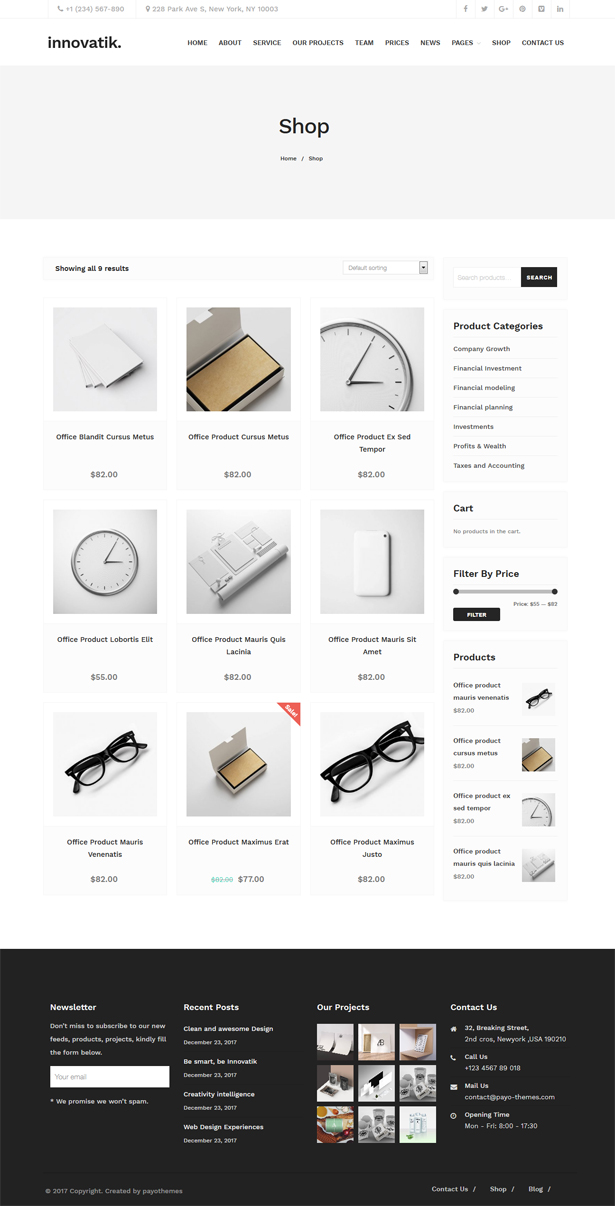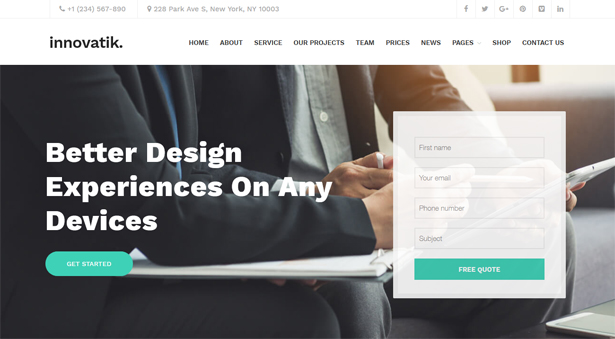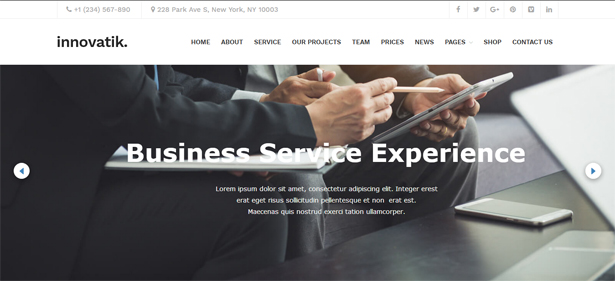 Features
LayersWp
Woocommerce
Responsive
SiteOrigin builder
Fast loading
6 Different Header Layouts
Google font
Background parallax
Background fixed
Video background
Smooth scrooling
One page & Multipages (WordPress default)
Yith woocommerce compatible and ready
Special thanks for:
Pexels
Visual portfolio
SiteOrigin
LayersWp
Video backgrounds for siteorigin page builder
Crelly slider
Important:
If you don't know how to install our template, please read our documentation (documentation you can find it in downloaded pack) in section Installation.
Also, if you have questions, please ask us.
1. Install WordPress
2. Download Layers wp https://www.layerswp.com/download-layers/ , install as theme and skip setup.
3. Go to WordPress Appearance – Themes and upload Innovatik theme (install/activate theme), after activate Innovatik theme, in left side, under menu, you will need to install and activate all plugins that comes with our theme.
If you have problems with theme installation, you can unzip it, and folder innovatik add it using ftp in wp-content/themes
4. Activate Innovatik theme
5. Install plugins/enable what you need for your site.
6. Go to WordPress Appearance – Customizer and add logo, choose header type, choose layout full width and other config options and save.
7. Create your menu and, add your pages, set to primary and save.
8. Customise your theme.
9. For demo check folder Import.
Note:
Images are from pexels.com Free for personal and commercial use and no attribution required, are included in pack.
Colors can be changed from WordPress Customize and style.css
Innovatik – Corporate WordPress Theme (Corporate)
Buy This Website
Included services with your monthly subscription
Managed WordPress Hosting Google Cloud optimized WordPress server setup and configuration. Your website will be hosted on Google Cloud, which is amongst the fastest and safest servers available. Besides hosting, the plan also covers server support and monthly maintenance.
Email Account
Professional hosted
[email protected]
One or more email accounts in our WordPress Servers. Never miss any important emails again or worry about your emails going to spam. The e-mail servers are being checked for stability and performance on a monthly basis.
Mailgun Mailgun for all your wordpress transactional emails (get all your outgoing transactional emails delivered right to the inbox and not spam folder). No need to rely on SMTP. Monthly Uptime Monitor to make sure that your website communicates with the rest of the world.
DDOS protection Cloudflare DDOS protection. Unmetered mitigation of DDoS to maintain performance and availability – your website will be protected from attackers. We will also monitor monthly for any attack attempts or security improvements through Cloudflare.
Core WordPress Setup Our WordPress experts will install and configure your WordPress website on Google Cloud Servers. They will also keep your WordPress up to date every month so you can always have the latest features available and at the same time be secure from vulnerabilities and malwares.
Theme License & Setup The cost of the WordPress theme you choose during the subscription process is included in the total price. Our team will install it and configure it exactly as it is on the preview demo. Once the developers of the theme roll out a new update, we will update your website with the new version.
Theme Plugins Setup Every WordPress theme comes bundled with its own or third party plugins. We will install and configure all plugins and make sure they are working as intended. Our WordPress support team will keep those plugins up to date with all new releases available every month.
Monthly Updates Report At the end of each month you will receive a detailed report with all updates performed on your WordPress, Theme and Plugins to keep it running bug free. Included in the report is a Page Speed Analysis along with a Keyword Ranking Summary on search engines.
Page Speed Optimization Our WordPress developers will optimize the Google server and your theme with caching and minification techniques so that your website can load blazingly fast. According to Google, speed now is considered a ranking factor and a fast loading website increases conversions and user experience. We will check monthly the website's page speed ranking and suggest improvements accordingly.
Search Engine Optimization Our WordPress SEO gurus will configure your website for better rankings in SERPs. After performing a keyword research we will optimize meta tags on your website, make sure pages have SCHEMA, create a sitemap and submit it to Google. They will monitor every month for SEO errors on Search Console and third party tools and track the progress of up to 5 keywords of your interest.
WordPress Website Backups We understand that customer data security is very critical. Hence, we have built a very resilient backup system, based on incremental/offsite backups of all websites of our customers, to an external storage network. We can restore any of the previously stored backups anytime you want.
49€ / per month